California Window Tinting Laws | Ab-1303 Vehicles: Window Tinting
As of January 1, 2018, the new law will allow drivers with a note from a dermatologist to apply additional window tint to their car.
Whether you're considering investing in window tint to keep your car's interior cooler this summer or simply because tinted windows look so sleek and stylish, you might assume the best course of action is dark tint all around. Not so fast—California has strict regulations about car window tinting to ensure the safety of everyone on the road.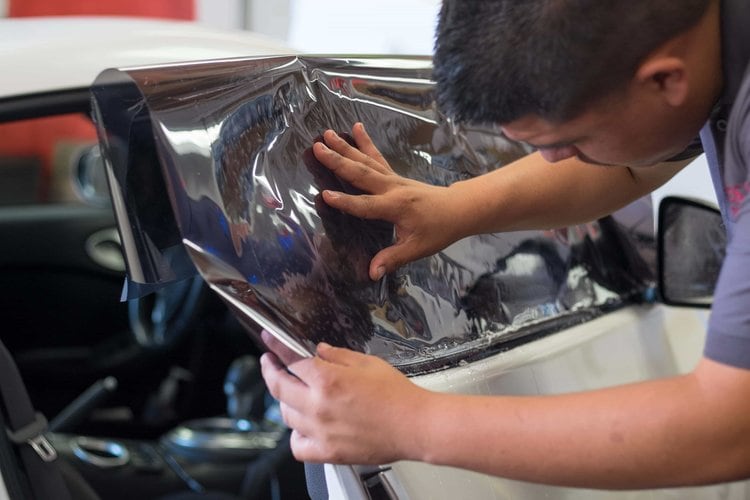 AUDIO SHACK
SAN DIEGO CAR WINDOW TINTING SPECIALS
CALL AUDIO SHACK TODAY
AT (619) 749-5750 AND ASK ABOUT OUR CURRENT SPECIALS
Law enforcement officers even have specialized equipment to determine the precise amount of shading if they think your tint is too dark. Professional window tint installers are well aware of these regulations and should inform you of them at the time of installation.
Shading restrictions
The amount of light that can pass through your windows is measured by the Visible Light Transmission (VLT) percentage, and VLT restrictions vary based on where the window is located:
Windshield: No tint of any shade is allowed, except on the top 4 inches of the windshield. However, you can use a clear (no tint) UV-blocking window film.

Front side windows: Minimum 70% VLT.

Back side windows: No restriction on tint darkness.

Rear window: No restriction on tint darkness.
Reflective regulations
Just like sunglass lenses, some window tint film contains metallic elements that help reflect incoming light, reduce glare, and cut down on the heat generated by visible light. However, California law regulates the reflectiveness of car window tint as such:
Windshield: Reflective tint is not allowed.

Front side windows: Tint must not be more reflective than a standard window.

Back side windows: Tint must not be more reflective than a standard window.

Rear window: No stated restrictions.
Other restrictions
Aside from shading and reflectiveness, California has a few other restrictions for car window tint:
Restricted colors: Window tint in shades of red, amber, or blue is not allowed.

Side mirrors: Dual side mirrors with 200 feet of visibility are required if the rear window is tinted.

Medical exemption: State law does not allow for medical exemptions that would allow drivers to bypass window tint regulations.
It's important to note that the window tint restrictions listed above apply to all vehicle types. Sedans, trucks, SUVs, vans, and even limousines are all required to follow California's tint regulations.
Ready to enjoy all the benefits of car window tint?
California's restrictions on window tint might be strict, but you can enjoy all the health, comfort, and safety benefits of car window tinting by selecting a premium gloss film that blocks more heat, lasts longer, and looks great without using prohibited metallic materials or dark shading. At Audio Shack, our window tint experts can help you select the right tint for your needs and budget, and we're so confident in our professional installation services that we offer a lifetime guarantee on labor.
Stop in our location in San Diego (El Cajon) today or give us a call at (619) 749-5750.